Hot Sauce
Korean Hot Cauliflower Gratin
Ok so you can't make it to Chimac restaurant in Dublin. How's about you grab yourself some Korean hot sauce and make a super comforting, delicious dinner of spicy gochujang Cauliflower Gratin
Time: 20 mins
Level: Easy
Suitiable for: Vegetarian
Ingredients:
50g Butter
200ml Milk 
50g Flour 
Salt & Pepper 
60ml Korean Hot Sauce 
2 Cauliflower heads cut into strips 
1 leek cut into thin strips 
100g grated gruyere 
200g of grated mature cheddar cheese 
100g breadcrumbs 
35ml olive oil 
A handful of chives finely sliced
Recipe:
Melt butter in a saucepan, then add the flour. Stir continuously until a paste forms – this is called a roux. Keep cooking for 1-2 mins until the colour turns light golden.

Add the milk to the roux gradually, stirring as you go, until you get a smooth sauce. Cook for 2-3 mins, stirring continuously, until the sauce has thickened. Season to taste with salt and pepper.

Add Korean hot sauce and ⅔ of the grated cheese

In a large dish layer the cauliflower bechamel and leeks

Pop the dish in the oven covered for 20 mins at 180

In a medium bowl, mix the bread crumbs with the oil and chives and the rest of the cheese. Remove the foil from the cauliflower Sprinkle the top of the cauliflower with the buttered breadcrumbs. Bake until the top of the cauliflower gratin is golden brown and bubbly, about 20 to 25 minutes. Let it rest for 5 minutes before serving. Serve hot.
If you like the sound this, why not try our
Korean Hot Sauce
€7.50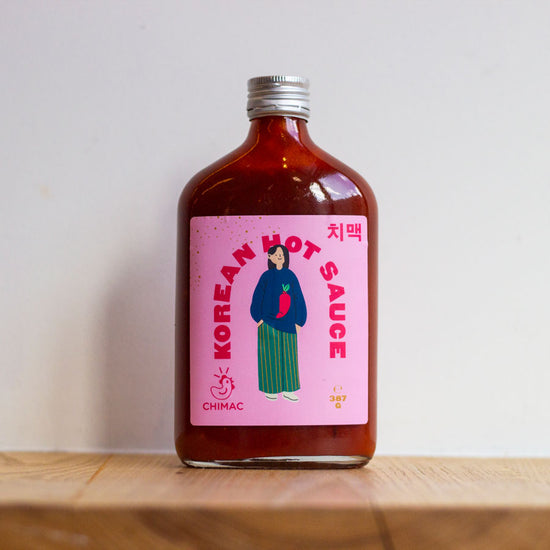 SHOP NOW